Ahhh... The year of 2014.
One could say that this year was
the year of the booty
. I'm only doing this because one of my friends suggested that I do an end-of-the-year-post on perhaps the BIGGEST year in the history of the universe. (If by big you mean the sizes of the booties that we've seen thus far)
The list could go on and on about all of the butts that we've seen twerking or sang about throughout the year.
Which would include those of:
Nicki Minaj
(lol jk jk...
I really meant this
)
Jennifer Lopez
(Of course can't forget about
Iggy Azalea
, I mean have you seen her butt? For a white girl she has a lot of insured assets ;) )
Meghan Trainor
Kim Kardashian
(who can forget about how she almost
broke the internet
?? ~ both links might be considered NSFW)
And of course the honorable mentions of:
Jason Derulo
Taylor Swift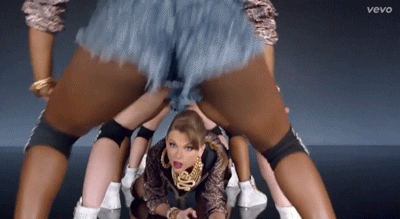 "Excuse me, pardon me, sorry getting through... Oh wow, why the moon is very full tonight!"
Today's artists with their coveted assets are kind of like goldfish, because they literally eat where they... well, you get the idea...
But, If you're like me besides, looking forward to the end of the year to watch the end-of-the-year-specials, like
Dick Clark's Rockin' New Year's Eve (With Ryan Seacrest)
, you look forward to making your resolutions because we all try so hard to leave all the bad stuff that we did the previous year, in lieu of the new year that's coming (Even if we're probably all going to break our New Year's resolutions a couple of days after we make them). So, at this year's crossroads between 2014 and 2015,
what will your New Year's resolutions be
?
Mine without a doubt is to remain as happy as I always am, despite the ups and downs that I had encountered this year,
And it's also to get more sleep,
And to finally realize my dream of learning some new languages.
Here are the highlights of my year
:
I started a blog!
I made it halfway, halfway through College!
I also got a new mascot!
She's a girl... by the way
And there's also this:
The best gift of all time (and 2014) from the best friend ever
I also hope to empower others in the future through the power of self-expression and ultimately booty-shaking :P (okay so maybe not so much the booty shaking, even if I do possess some assets of my own *wink, wink*)
I also hope to have more highlights next year...
I was going to write an entire post about how this year is undoubtedly going to go down in history (and in infamy) as the year that was ultimately taken over by one of the most weirdly coveted and hated body parts perhaps in the universe. But, if you're like me, then besides the sea of booties, you just want to enjoy the end of this year and welcome the new one like every other year.
So Happy New Year! For Next year and every other year that there is to come!
I'll leave you with some of
the most inspiring videos of 2014
, but always remember that we all have
bright futures behind us
.
Here's a look at 2014 on Google
2014 was an incredible year for science and technology
SuperJunior saying "bye bye" to 2014
YouTube's Rewind of 2014
Happy New Year Everybody
P.S
: Adding Beyonce to the list of booties would be overkill, because with her every year is the year of the booty
P.P.S
: Another Highlight to my year was seeing
Carlton do the Carlton
! But of course even he is sad to see this year go...